Temperature Sensor & Sealing Assemblies for
Semiconductor Processing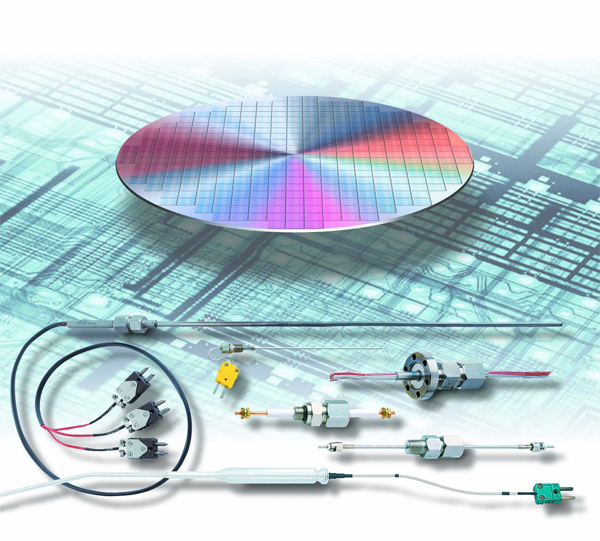 MATERIAL PROCESSING

1.Thermocouple used to monitor surface
temperature during the manufacturing process of
flat panel glass.A unique 44 AWG wire hot junction
(0.002" diameter) maximizes time response while
minimizing surface contact.

2.Thermocouple used in production systems to pull
single-crystal silicon ingots features an adjustable
immersion sealing gland with O-ring seal.
3. High-vacuum,8000-volt feedthrough for
use on a thermally enhanced deposition
reactor for coating of flat panel glass.
INTEGRATED CIRCUIT TESTING

1.Highly Accelerated temperature and
humidity Stress Test (HAST) multiple,
continuous-wire thermocouple and sense
line feedthrough for screening moisture
levels within packaged integrated circuits.
2. High-density thermocouple and/or signal
wire feedthrough available in 12-,24-,40-
and 60-wire configurations in 0.18",0.25",
0.31" and 0.37" diameters respectively.
INGINTEGRATED CIRCUIT HANDLING/HARDWARE MANUFACTURING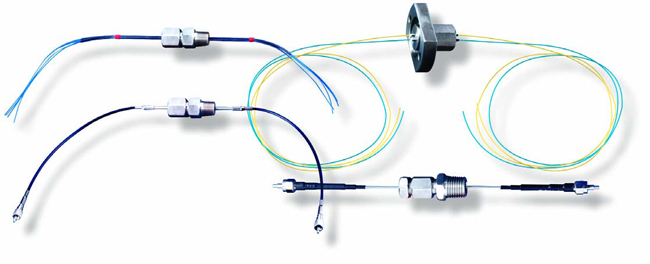 Fiber Optic Cable Sealing
Optical cable sealing used to seal against
pressure or vacuum environments for
optical sensors and position devices.
WAFER MANUFACTURING
1.Molybdenum-sheathed platinum
thermocouple used in Metal Organic Chemical
Vapor Deposition (MOCVD) systems.

2. Platinum thermocouple with a quartz sheath
for a Rapid Thermal Processing (RTP) reactor.
3.Staggered, three-point tungsten-rhenium
thermocouple with a sealed inert-gas backfilled
sheath used for calibrating infrared sensors on
epitaxial reactors.

4.Spring-loaded thermocouple with formed
sheath used in an ion implanter.

5. Teflon-jacketed thermocouple for etching
production systems.

6.Sealing gland assembly for sheathed
thermocouples or insulated conductors,for
high-vacuum or pressurized autoclave
process applications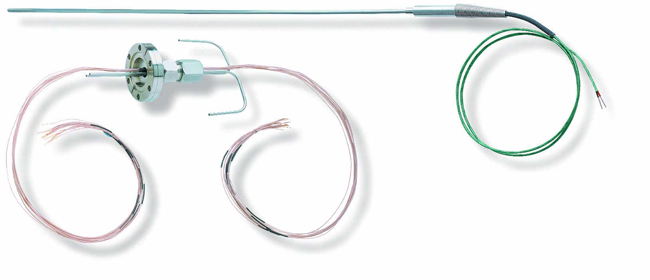 7.Single-point platinum thermocouple with
molybdenum sheath to manually profile fastresponse
epitaxial reactors.

8.Combination feedthrough for wire and
coolant lines for an ion implanter.
1. Fiber optic feedthrough assembly
capable of sealing vacuum to 2000
PSI at -40°C to 85°C.

2-3. Optical temperature sensors
designed for wafer fabrication
processing up to 1350°C.

4.One-piece virgin Teflon®
sensor housing with an integral
PC-programmable transmitter for
a deionized water system.
Conax Buffalo Technologies 는
Conax Technologies 의 옛 명칭입니다.
한국 총판 (주)다일아이비씨