HAST Feedthrough for Copper Bias and Thermocouple Wires Using a High Density Feedthrough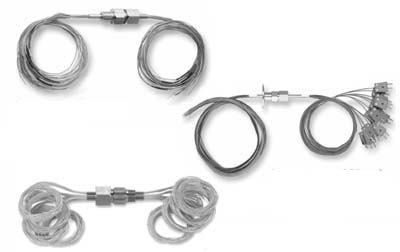 Conax specializes in high quality wire sealing in demanding applications such as Highly Accelerated Stress Testing (HAST) typically done in the semiconductor industry.

Cyclical Temperature testing is hard on seals, wire insulation and on the wire its self from a corrosion standpoint.

This style feedthrough features 24 AWG, Teflon insulated wires. The wires may be supplied in Copper, or as J, T, K, or E thermocouple calibrations to allow for temperature validation in the X, Y, Z coordinates of the chamber.

Within a given High Density Feedthrough tube, the wires may be mixed or matched between Copper and thermocouple wires. Multiple High Density tubes may be grouped together in a common sealing gland to minimize penetrations though your chamber wall. High Density tubes come in 12, 24, 40 and 60 wire densities. Options include having thermocouple sets come with junctions pre-made, thermocouple wire pairs twisted into sets, having thermocouple connectors pre-installed on the outside of the feedthrough, etc.

Connection to your chamber can be via standard NPT threaded connection or via flange or straight thread with O-ring seal.