Aerospace Parts Autoclave Assembly Power Feedthrough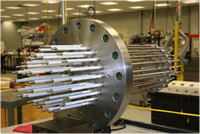 Customer Requirement:
Our customer, an aerospace composite parts manufacturer, wanted to replace their heater power feedthrough in an aerospace parts autoclave.
While it was intended to be an exact physical replacement of an existing Wellman Thermal Systems Heater Power Feedthrough, Conax developed a "plug and play" solution offering several key advantages compared to the Wellman Design. The most important feature was its ability to be rebuilt in the field to restore optimal performance.
Conax Design Solution: This product is a custom-designed hybrid of our Electrode Gland (EG) series and our Electrode Gland Teflon (EGT) series designs. We incorporated and combined positive features of each gland to benefit the customer in this application.
The EG offers high temperature resistance required closer to the heaters. The EGT offers more robust, less costly components for the balance of the assembly located where lower temperatures prevail.
The specially made solid nickel conductors are designed with staggered lengths to ease power cable attachment.
Benefits: Performance and longevity were improved with this design because the heating elements can function at peak performance at all times, reducing cycle times and down time. The few replacement parts required can be replaced on-site in the time it takes for the unit to cool down and be reloaded with new production material. The old design required a complete offsite rebuild over several months with a significant loss of productivity and a continuous performance degradation throughout its life cycle.
If you have a need to manage power or instrument leads into any type of an autoclave or to replace any Wellman Feedthrough look to Conax Technologies for your solution.