(Piezoresistive Pressure Sensors, 압저항식 압력센서)

The 3000 Series Low Pressure is ideal for
high-volume, low-pressure OEM applications.
Overview
Features
Range : 5 to 100 psi (.34 to 6.9 bar; 34.5 to 689 KPa)
Type : Absolute, gage, differential and vacuum
Media : Clean, dry air and non-corrosive gasses
Shipping : Wafers on tape
Flexibility : Sensitivity, resistance, bridge, constraint, etc.
Benefits
Performance : Enjoy best-in-class performance due to Merit's proprietary Sentium technology
Cost : Save money over time with high-performing die
Security : Feel confident doing business with an experienced company backed by a solid parent company (NASDAQ: MMSI)
Speed : Get to market quickly with creative and flexible solutions.
Service : Experience prompt, personal and professional support.
Specifications
Parameter
Minimum
Typical
Maximum
Units
Notes
Electrical & Environmental

Excitation
 
5
15
V
Maximum: 3mA
Impedance
4000
5000
6000
Ω
Optional: 3,500 +/- 500
Operating Temperature
-40
 
150
°C
Sentium® technology
Storage Temperature
-55
 
160
°C
 
Performance

Offset
-10
0
10
mV/V
Zero pressure; gage only; @25°C
Non-linearity
-0.2
0
0.2
% FSO
Best Fit Straight Line; @25°C
Pressure Hysteresis
-0.1
0
0.1
% FSO
@25°C
Temp Coeff - Zero
-25
0
25
µV/V/°C
-40°C to 150°C
Temp Coeff - Resistance
2300
2800
3300
PPM/°C
-40°C to 150°C
Temp Coeff - Sensitivity
-1500
-2200
-2500
PPM/°C
-40°C to 150°C
Thermal Hysteresis
-0.2
0
0.2
% FSO
Zero pressure
Long-Term Stability
-0.2
0
0.2
% FSO
 
Burst Pressure
3X
 
 
 
Full scale pressure
Full-Scale Output (@ 5 volts) Other outputs available upon request

5 psi (.34 bar; 34.5 KPa)
60
75
90
mV
 
15 psi (1 bar; 103 KPa)
125
150
175
mV
 
30 psi (2.1 bar 207 KPa)
120
150
180
mV
 
50 psi (3.4 bar 345 KPa)
100
125
150
mV
 
100 psi (6.9 bar; 689 KPa)
125
150
175
mV
 
Dimensions (millimeters, post-cut)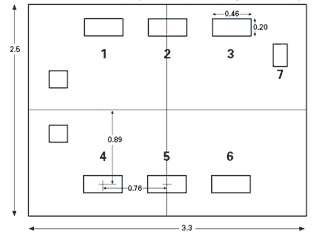 Standard Bond Pad Metallization = Aluminum

Absolute also; other contraints available
Electrical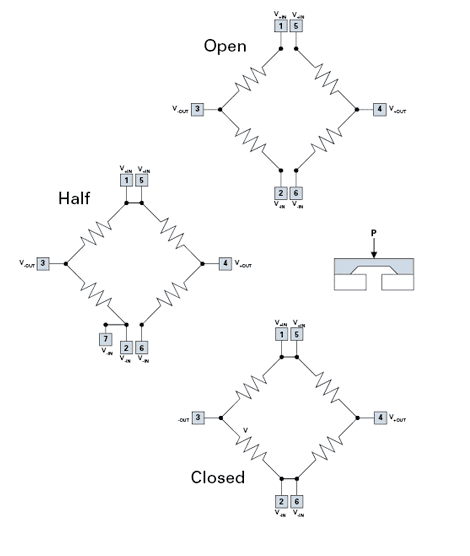 Part Number Configurator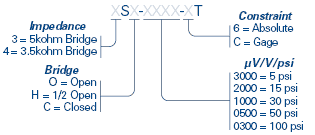 Example:
3SO-3000-CT offers 5kohm Impedance, Open Bridge, 5 psi and Gage Constraint
Standard Part Numbers

| | | |
| --- | --- | --- |
| 3SO-3000-6T | 3SC-3000-6T | 4SH-3000-6T |
| 3SO-2000-6T | 3SC-2000-6T | 4SH-2000-6T |
| 3SO-1000-6T | 3SC-1000-6T | 4SH-1000-6T |
| 3SO-0500-6T | 3SC-0500-6T | 4SH-0500-6T |
| 3SO-0300-6T | 3SC-0300-6T | 4SH-0300-6T |
| 3SO-3000-CT | 3SC-3000-CT | 4SH-3000-CT |
| 3SO-2000-CT | 3SC-2000-CT | 4SH-2000-CT |
| 3SO-1000-CT | 3SC-1000-CT | 4SH-1000-CT |
| 3SO-0500-CT | 3SC-0500-CT | 4SH-0500-CT |
| 3S0-0300-CT | 3SC-0300-CT | 4SH-0300-CT |
| 3SH-3000-6T | 4SO-3000-6T | 4SC-3000-6T |
| 3SH-2000-6T | 4SO-2000-6T | 4SC-2000-6T |
| 3SH-1000-6T | 4SO-1000-6T | 4SC-1000-6T |
| 3SH-0500-6T | 4SO-0500-6T | 4SC-0500-6T |
| 3SH-0300-6T | 4SO-0300-6T | 4SC-0300-6T |
| 3SH-3000-CT | 4SO-3000-CT | 4SC-3000-CT |
| 3SH-2000-CT | 4SO-2000-CT | 4SC-2000-CT |
| 3SH-1000-CT | 4SO-1000-CT | 4SC-1000-CT |
| 3SH-0500-CT | 4SO-0500-CT | 4SC-0500-CT |
| 3SH-0300-CT | 4S0-0300-CT | 4SC-0300-CT |
Note:
"T" in part number = sawn wafer on tape in metal frame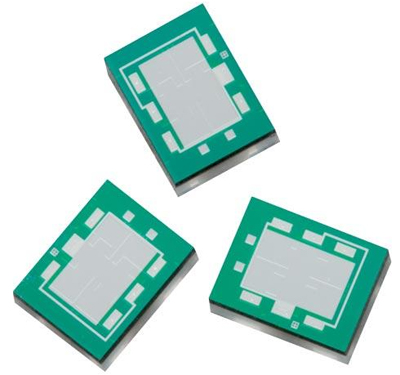 Merit Sensor Systems 한국대리점 (주)다일아이비씨